AKIRA UENISHI, ARCHITECT Akira Uenishi's priority in every project is the creation of spaces where human activ…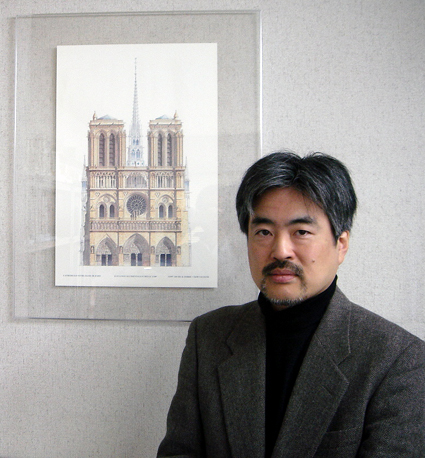 AKIRA UENISHI, ARCHITECT
Akira Uenishi's priority in every project is the creation of spaces where human activities are both physically and mentally enhanced and which will endure through time. Every architectural design requires an unique program because every project is rooted in a specific site and has a specific purpose. Akira Uenishi's designs express his belief in creating simple and modern spaces while utilizing current technology and appropriate building materials.
Akira Uenishi's ideas reflect his 15 years of experience in architectural design with Fumihiko Maki,the Pritzker Prize recipient and one of the world's leading architects. Mr.Uenishi's experience encompasses large scale projects for municipal governments including a convention center, performing arts center, rail station plaza, gymnasium and master plans for housing and waterfront developments and universities. In addition he has significant experience with private projects.
After completing his last project as chief designer and project manager of Natori Performing Center with Maki and Associates, Akira Uenishi established his own firm in 1998 and has been selected for several private residential projects in the U.S. and Japan. He participates in international competitions and lectures architectural design at several universities.
brief personal history
Bachelor of Architecture, University of Tokyo 1982
Master of Architecture, University of Tokyo 1984
Registered Architect, Japan
Member of Japan Institute of architects
Member of Architectural Institute of Japan
Lecturer at Kogakuin University in architectural design, 1997-2007, 2012-2019
Lecturer at Kanto Gakuin University in architectural design, 2012-present
Lecturer at Kyoritsu Women's University in architectural design, 2008-present
Lecturer at Nihon University in architectural design, 2006-2011
Experience:
Akira Uenishi Design, Architecture and Urban Design
Principal 1998 – present
Nara Medical Center,

Kashihara City, Nara

A-Clinic,

Ikoma City, Nara

U-Clinic,

Ikoma City, Nara

Iwao Orthopedics,

Hita City, Oita

Umenoki-en in Ohmori,

Ota City, Tokyo

Ebisu N Building,

Shibuya City, Tokyo

SUNSHINE Asakusa,

Taitoh City, Tokyo

House in Naka-meguro,

Tokyo

House in Lakeville,

Connecticut.

SK Apartment Interior,

New York City

Park Avenue Apartment Interior,

New York City
Maki and Associates 1984 – 1998
Chief designer, 1993 – 1997
Natori Performing Arts Center (Natori, Miyagi),

chief project manager

multi-purpose public performing arts center for the municipal ward of Natori,
146,960 sq.ft. consisting of large hall (1,350 seats),medium hall (450 seats),
small hall (200 seats),4 practice rooms and 3 conference rooms.
Designer, 1984 – 1993
Nippon Convention Center(Makuhari Messe, Chiba),

project manager

multi-purpose convention center, 1,410,535 sq.ft.

Kitanaka Redevelopment (Yokohama, Kanagawa),

project manager

50 stories-high skyscraper,atrium,renovation of old bank building

Hillside Terrace PhaseⅤ (Hillside Plaza,Shibuya, Tokyo)

Small event space for Hillside Terrace Complex.

Tokyo Metropolitan Gymnasium (Shinjuku, Tokyo)
Kaze-no-Oka Crematorium (Nakatsu, Oita)
West Plaza at Yokohama Central Station (Yokohama, Kanagawa)
Keio University Fujisawa campus, master plan (Fujisawa, Kanagawa)
Toyama Shimin Plaza, master plan (Toyama, Toyama)
Yokohama Waterfront, master plan (Yokohama, Kanagawa)
Kouhoku New Town Housing Development, master plan (Yokohama, Kanagawa)